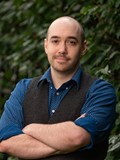 A Bit About Me
About Trevor Covington, MS, CEM
Trevor Covington is a Certified Emergency Manager (CEM) with over a decade of experience leading disaster preparedness and response programs at local, state, and national levels. With a personal mission to prevent loss and suffering from disasters, he is extremely passionate about helping others avoid and navigate crises. Trevor holds the conviction that while we cannot know the future, we can absolutely prepare for it. This conviction drives his approach to emergency preparedness –instead of trying to predict the future, focus on becoming protean (adaptable, versatile). Armed with this philosophy, Trevor helps organizations and governments by providing a practical, engaged, and mission-focused approach to emergency preparedness informed by academic research and insights from disaster response.  
He started his disaster career with the American Red Cross serving as the Eastern Idaho District Manager and later as the Senior Disaster Program Manager for Oregon. During this time, Trevor led response and recovery operations across the West Coast in addition to building and chairing non-profit response coalitions called Community Organizations Active in Disasters (COADs). After spending a year consulting for FEMA Region X as part of Teracore and teaching emergency management courses for Ashford University, Trevor joined the Washington State Department of Health (WA DOH). 
While serving at WA DOH, he developed innovative resilience and response strategies, plans, and programs by assembling experts and stakeholders, developing a shared vision, and shepherding efforts towards meaningful and lasting impacts.  In addition to his role as a resilience subject matter expert, Trevor served as a lead Operation Section Chief responsible for managing disaster response operations for the agency and training operational response personnel. These disaster responses ranged from wildfires, to floods, to radiation incidents, to the initial COVID-19 response. In addition to his experience in the field, Trevor holds a Master of Science in Emergency Management, is a graduate of FEMA's National Emergency Management Advanced Academy, and has hundreds upon hundreds of hours of preparedness and response training. Additionally, he is certified as an Incident Command System Instructor and Operations Section Chief Trainer. Being extremely passionate about the field and mentoring others, Trevor is frequently developing and delivering talks and trainings about emergency preparedness. 
When he isn't focusing on disasters, he is off enjoying the Pacific Northwest with his wife, Kelly, either by foot or kayak.
Get in touch to consult with our specialists today...
Reach the pinnacle of preparedness.